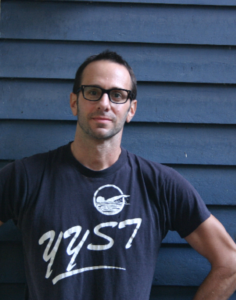 Daniel Caplan started working in gyms nearly 20 years ago, manning the front desk of the family gym in Madison, WI. That experience planted the seed to someday recreate the same, friendly, upbeat perfectly-sized neighborhood gym his father once fashioned. Fast forward 20 years, and the vision for that exact kind of gym—along with the right neighborhood and a fantastic space—became reality. Add the fact that members can help power the gym and earn rewards, and it's the best of all worlds.
Daniel transitioned to fitness counseling three years ago after managing the warehouse of an AIDS non-profit in Seattle and a restaurant in North Portland.  He's accumulated over 1,500 personal training sessions after earning a degree from Portland State University in Health Studies with an emphasis in Physical Activity and Exercise in 2007. He's worked with elite-level athletes and aided in post-surgical rehabilitation.  He's made a positive impact on the health and wellness of everyone he works with, from mothers to senior citizens, long-time athletes to beginning exercisers. He specializes in nutritional counseling, functional training, balance, core, circuit, strength, cardiovascular and full-body workouts.
Daniel is a certified personal trainer and health/fitness specialist with the American College of Sports Medicine. He also holds a Bachelor's in Business Administration with an emphasis in Marketing from the University of Wisconsin-Madison, and a Bachelor's of Science in Sociology from San Francisco State University. A former college ice hockey player, Daniel also competes at a high level in tennis, enjoys soccer, kayaking, cross country skiing, biking, music, photography, film, theater, books and pop culture.